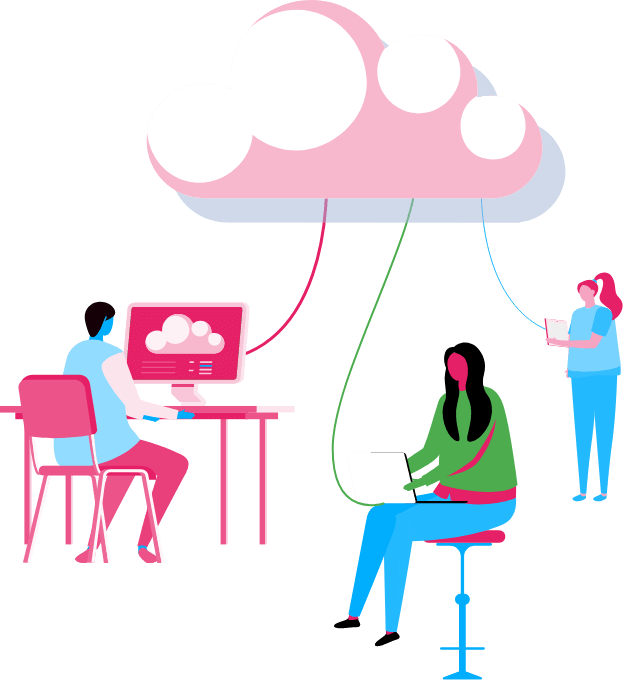 A hosted desktop is a client-user environment in which a desktop computer (also known as a thick client) uses virtual desktop infrastructure to access data on a remote server (VDI). A hosted desktop can run its own operating system and applications while others are managed by the server.
What are the benefits of hosted desktops?
Companies can use hosted desktops to run virtual machines on desktop computers. Because applications and data remain in the datacenter, there are several advantages in terms of security and control.
Staff can easily access everything they need from a centralised server.
IT management is simplified with hosted desktops because everything is managed in a single location. Instead of having to instal new applications on each new device, new applications can be added to the central desktop.
Greater control: Because virtual desktop infrastructure servers are typically located on-premises, IT has more control over data.
Scalability: Hosted desktops can help businesses become more agile by allowing them to simply add more virtual machines for testing or contractor use.
Use cases for hosted desktops
BYOD workplaces: Historically, organisations have preferred that employees use specific devices, such as company-owned laptops, to avoid security risks. However, as more businesses adopt Bring Your Own Device (BYOD) policies in the age of hybrid work, many are turning to hosted desktops to provide secure application / data access.
Third-party vendors and contractors: When companies outsource projects, they typically have two options: provide each employee with a company laptop or manage multiple environments across contractors. Contractors can use their own devices to access the company's system via a hosted desktop.
Graphic-intensive applications in the workplace consume a lot of computing power, which is expensive and puts a strain on business systems. Hosted desktops provide the virtualization needed to easily share data while also improving app performance.
GET AN IT SOLUTIONS QUOTE
We'll chat about your business, how you use technology, and what you want to get out of IT.
Lets Talk

We'll chat about your business, how you use technology, and what you want to get out of IT.
Choose Your Plan

If we're the right fit, you'll choose the IT service agreement that works best for your organization.
Start Your Experience

Within days, you'll be experiencing IT like never before.